Membership
Why Join SVAHU
NAHU will protect your rights to serve your clients' needs.
You will obtain timely, informative news about the industry.
SVAHU provides over 25 free continuing education courses on the hottest insurance topics.
You will share information with top producing insurance professionals.
You can participate in grass roots efforts that respond to local legislative issues.
You will benefit from a variety of member-only programs.
NAHU´s Code of Ethics demonstrates to your clients your commitment to professionalism.
You will play an active role in the future of the health insurance industry.
You will receive a subscription to HIU, The Statement, and In Touch, the national, state, and local magazines.
More than 19,000 of your colleagues, peers and competitors are NAHU members - what do they know that you don't?
When you join SVAHU, you automatically become a member of CAHIP and NAHU!
Membership Resources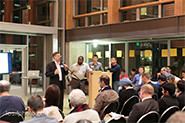 To learn more about becoming a SVAHU member, click here.